JANELLE > LECTURE
Franklin & Marshall College
Conrad Nelson Lecture
March 21, 5pm
Stahr Auditorium
Stager Hall

---
JANELLE > GROUP SHOW
Bodies of a Different Mass
Tiger Strikes Asteroid Los Angeles is pleased to present
Bodies of a Different Mass
, a cooperative exhibition featuring works by Tiger Strikes Asteroid Philadelphia members and artists from the Los Angeles area.
Opens
April 21, 2018, with a reception from 7- 10,
and runs through May 13, 2018.
---
JANELLE > PANEL @ NCECA CONFERENCE

NCECA 2018: Pittsburg Convention Center
Friday, March 16th, 1:00pm-2:00pm Rm 301-303 DISCUSSION: COLLABORATE! CROSSDISCIPLINES Moderator: Firth MacMillan Panelists: Jeanne Quinn, Janelle Iglesias "How does the creative process translate across disciplines?" sparked a collaboration between a visiting artist, two ceramics and one dance class. Learn about the process, projects, and museum performances that according to one student, "exploded my understanding of what I could do with ceramics".
---
LISA > RESIDENCY IN FINLAND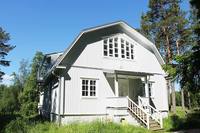 Lisa is participates in the Artist in Residence Program at the

The Nelimarkka Museum in Alajärvi, Finland: January - March 2018