LAS HERMANAS > VIRTUAL CONVERSATION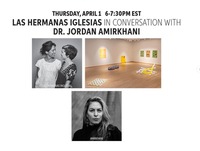 Las Hermanas Iglesias in Conversation with Dr. Jordan Amirkhani
On April 1, 2021 at 6:00PM Eastern Time, Las Hermanas Iglesias and Dr. Jordan Amirkhani will discuss collaboration and art making within the context of Covid and remote communications.
Registration is necessary: All funds raised through registration will provide much-need operating support for the Work Center. If you are unable to make the minimum $25 donation, use the code WONDERSPRING for free access or a sliding scale approach. Any questions, please email
virtualevents@fawc.org
.
Click here to learn more.
---
LAS HERMANAS > RECORDED TALK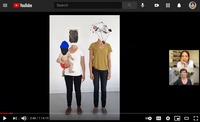 Vermont Studio Center / Virtual Visiting Artist-to-Artist Talk with Las Hermanas Iglesias : March 22, 2021 : Click above for the recorded presentation on YouTube
---
LAS HERMANAS > UPCOMING EXHIBITION
M(other) Tongues: Bodhild and Las Hermanas Iglesias:
Oct 28, 2021 - Jan 31, 2022
National Nordic Museum, Seattle, WA
Curated by Leslie Anderson
The artists will also participate in the National Nordic Museum's biennial Nordic Knitting Conference in November 2021.
---
LAS HERMANAS > VIRTUAL EXHIBITION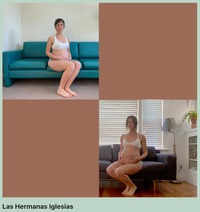 601Artspace:
@601_artspace
https://601artspace.org/Loss-Empowerment
:
What Comes After
Curated by Sara Shaoul
"This past year has been defined by profound loss, disempowerment and upheaval for many of us. As we reckon with our losses we are also looking for ways, both individually and communally, to reclaim our power and determine how to forge ahead." Online exhibition featuring
Aaron Bos-Wahl
, Rebecca Fortnum,
Clare Kambhu
, Jessica Hargreaves, Las Hermanas Iglesias,
Catarina Lopes Vicente
,
Melissa Murray
, Annysa Ng, Paul Ramirez Jonas,
Jia Sung
,
Andrea Thoma
, and
Shira Toren
---
LAS HERMANAS > VIRTUAL ARTIST TALK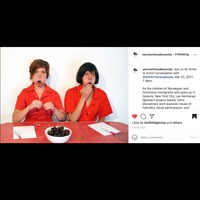 VERMONT STUDIO CENTER
Artist to Artist Conversation: Las Hermanas Iglesias
Monday, March 22, 2021
7:00 PM - 8:00 PM
This event is free and open to the public. Please register in advance to secure your spot as a private Zoom link will be provided prior to the start of the event. Click here to learn how to register.